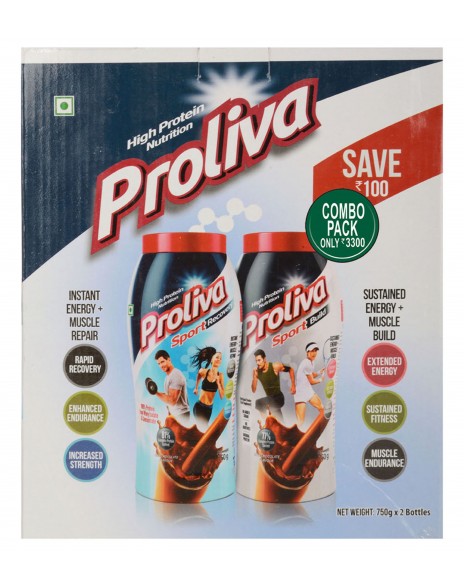 PROLIVA SPORT COMBO
Proliva Sport Combo is a combination of two products, Proliva Sport Recovery & Proliva Sport Build (750 gms X 2), specifically created for professional sport persons, body builders and people engaged in strength / endurance training. It comes in a convenient carry-on carton.

Proliva Sport Recovery contains fast-release Whey proteins, which help in terms of instant recovery post workout and are also referred to as day proteins. This rejuvenates the muscle mass and provides energy back to them. On the other hand, Proliva Sport Build containing combination of different proteins and mainly based on casein, which is a slow-release protein, is also referred to as night protein. The slow action of Proliva Sport Build helps repair damages to the muscle mass as well as building stronger lean muscle, by working overnight. Please refer to individual product details of Proliva Sport Recovery and Proliva Sport Build for further information.

Therefore, this combination is ideal for professional sport persons and people undergoing strength / endurance training to both help in instant recovery and also build lean muscle mass. Proliva is proud to present this concept of combination of different proteins for sports nutrition, for the first time in the country.
Total Protein content: 24.3g per serving of 30g in Proliva Sport Recovery and 23.14g per serving of 30g in Proliva Sport Build

Proliva Sport Combo is available in Rich Chocolate & Vanilla Caramel Cream flavours
---
Please choose any one option.
3000.0000
https://schema.org/In Stock
PROLIVA SPORT COMBO
Price: ₹3,300.00
₹3,000.00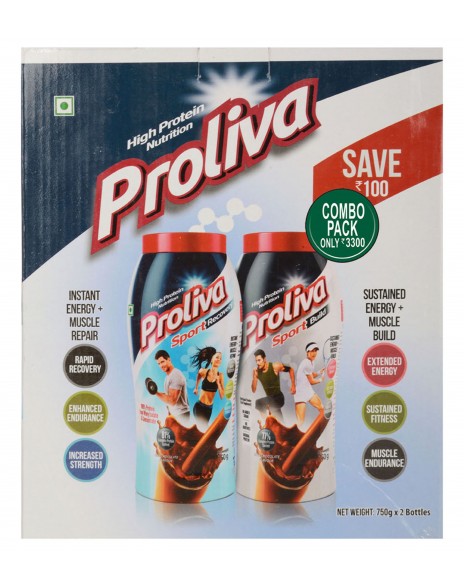 Key features
Proliva Sport Combo is available in two flavours: Vanila Caramel Cream and Rich Chocolate Flavours.
If you are above 17 years of age and are undertaking heavy physical exertion as a professional sports person, athlete or bodybuilder and your performance involves development of specific muscles, then Proliva Sport Combo is ideally suited for you. Proliva Sport Combo contains one pack each of (i) Proliva Sport Recovery, which containing fast-release whey proteins, assist in meeting protein energy requirement and (ii) Proliva Sport Build, which containing blend of proteins led by Casein, helps in repairs for damages caused to muscle mass and development of lean muscle mass by slow & sustained release action.

The Proliva Edge:

· Customised products addressing specific functionalities
· Designed as per Indian Dietary Habits and deficiencies
· Highest proportion of proteins in all its products
· All Natural – Proliva products do not contain added sugars, sweeteners, preservatives, additives, chemicals or hormones.
· 100% vegetarian – All Proliva products are 100% certified vegetarian with its milk based proteins derived from grass-fed cows and all other ingredients also derived from vegetarian sources.
· Affordable – Proliva products come in affordable monthly packs.