Proliva 100% Raw Whey Protein
Athletes, sports person, body builders and all the fitness freaks' lifestyle revolves around rigorous physical exercises. Protein energy is required to help meet the strain on muscles. Using quality proteins helps reap the benefits of every training session by supplementing the required nutrition in ones' body. Hence, Proliva Raw Whey Protein comes to help, containing fast-release whey proteins, which gets absorbed into the body rapidly and provides the required daily protein needs. It gives you instant energy and pumps up your muscle without getting them fatigued easily. Therefore, Proliva Raw Whey Protein offers you natural whey protein for instant energy and increased strength, to maintain peak performance and keep you fit, active and healthy. Proliva Raw Whey Protein contains 79% proteins extracted from 100% grass-fed milk, which is all natural and vegetarian. In provides 10g EAA (Essential Amino Acids) and 4.7g BCAA (Branched Chain Amino Acids) per serving; additionally, each serving also contains 4g Glutamic Acid, fulfilling complete nutrient requirement. Proliva Raw Whey Protein Ingredients: Instantised Whey Protein Concentrate 80% (WPC-80)
The Proliva Edge:

· 79.6% (24g/30g serving) complete protein content
· Contains whey for a quick protein boost
· 100% natural protein from grass-fed milk
· Contains all the essential amino acids – 10g EAA per serving
· Rich source of branched chain amino acids – 4.7g BCAA per serving
· Rich in Glutamic acids - 4g per serving
It is 100% vegetarian with no added sugars, creatine, sweeteners, flavours, chemicals, hormones, preservatives, chemicals or banned substances

1199.0000
https://schema.org/In Stock
Proliva 100% Raw Whey Protein
Price: ₹1,799.00
₹1,199.00
Key features




Natural & Vegetarian Protein


It's a gluten-free, soy-free, hormone-free, non-GMO natural & 100% vegetarian protein. Also, it does not contain sugars, artificial sweeteners, colors or flavors, chemicals, preservatives, added creatine, lecithin or banned substances.


High Protein Content


It contains 24 g of whey protein per serving of / 30 g and gets easily absorbed in the body. It works quickly to increase the rate of muscle protein synthesis in the body.
Support Overall Health


This smooth protein offers lean muscle, strong immune system, and healthy weight management. Ideal for bodybuilders, sports person, athletes and anyone into fitness.

Unflavoured Raw Protein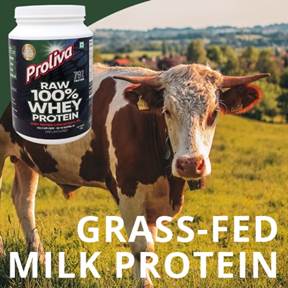 Made from grass-fed milk that loaded with protein, amino acids, immune factors, antioxidants, and minerals
It is unflavoured and odourless so the consistency of the food or beverages does not change
Mixes Well in Beverages & Liquid Foods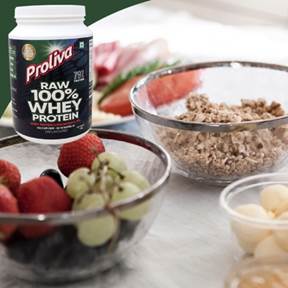 Mix well with coffee, juice, soda, oatmeal, yogurt or any item you may be adding it to
This protein is as delicious as it is nutritious and is the perfect addition to your daily smoothie or shake
Consumption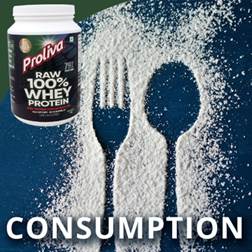 Adults (Regular): 2 scoops (30g) in 100 ml water or low-fat milk, within 30 minutes before or after exercise or first thing in the morning
Adults (Intense workout): Up to 4 scoops (60g) in 200 ml water or low-fat milk, within 30 minutes before or after exercise.
Shake well in a shaker. Tastes best in chilled water or low-fat milk. Add some fruits or coffee to have better flavour and natural nutrition!